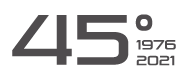 Provide our long-standing experience in the field of plastic materials to ensure the highest expertise, the best service possible, and use business to implement cutting-edge and environment-friendly solutions.
Dilplast grew out of a small company founded by Dante Ternelli in 1976. Being at the forefront of technology has always been the key feature of a company that today has 20 employees, and that in the early 2016 has celebrated its 40th anniversary. Thermoforming is a process that requires the right balance between theoretical knowledge, practical know-how, fieldwork and domain expertise. All traits Dilpast accrued over years of hard work, errors, analysis and improvement; and that today are made available to the client in our brand-new headquarter located in Montecchio Emilia in the province of Reggio Emilia.
The approach we take towards design demonstrates a bias for simplicity and utility. Our creed is as simply as incisive: form follows function. To us, the close oversight of all stages of manufacture – from design to finished article – translates into an active participation in the overall creation process and is crucial to maintaining a high level of our standardized production methods and an unvarying quality in any manufacturing stage. A shrewd organization of company's internal structure has also helped us to achieve increasingly better results, meeting even the most demanding requests and supplying our clients with higher quality product.
We operate complying with ISO EN UNI 9001:2008, thanks to which we are able to do an end-to-end component design control and, above all, to drastically cut scrap, waste plastic and returned goods. The aim of fulfilling our mission statement reward us everyday with big satisfactions both personally and professionally.