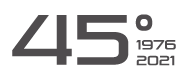 THERMOFORMING AND PLASTIC MANUFACTURING
Our long-standing experience in the field of plastic enable us to ensure the highest expertise, the best service possible, and use business to implement cutting-edge and environment-friendly solutions.
The broad range of processing techniques we can put in place the wide selection of raw materials we can work through – ABS, PS, PETG, Methacrylate and Polycarbonate – permitted us to satisfy world-class companies' necessities over the years. Third-party products are manufactured on specific requests and earmarked for numerous commercial and industrial fields.